Your donation will enable us to reach more children, young people and families experiencing complex social and emotional difficulties across South West London, helping them to put the pieces back together.
They can access the help that they need through one-to-one, family and group work. It will make a difference and give our service-users the best chance at a bright and happy future. Once again, thank you very much from all of us at the Jigsaw4u Team!
The Power of your donation: Daisy's message to Jigsaw4u
Other ways to Get Involved
Other ways to Donate
There are several ways to donate to Jigsaw4u, you can learn more about other ways to donate by checking out any of the options found below.
Gifts-in-Kind
Have you got any goods or services you might like to donate?
Donating Goods
Donating goods is a great way to support our service-users, especially during the current cost of living crisis that we are collectively facing. Here are some ideas of donated goods that can benefit those we support.
Canned or Long-life food 

New Clothing 

Equipment
Our up-to-date needs
We also have a document with up-to-date needs. This changes regularly. Please give it a look and get in touch with us if you have any questions about these goods or services.
Current Needs
Providing Services
Any services that might help us with our work would be much appreciated.
This can be through our Activities4u service. Perhaps you're a children's entertainer and you could join us at one of our Beats and Pieces community events. Please reach out to our team if you can provide a service at a free or discounted rate that you feel could benefit our service-users.
Get in touch
Support from Businesses, Organisations and Individuals
Individuals within organisations or businesses have the power to help create a positive impact to improve the lives of our service-users.
Payroll Giving
Payroll giving, also known as workplace giving, is a simple and tax-effective way to donate to charity.
It is an HM Customs and Revenue scheme that enables employees to donate tax free through their pay to any charity in the UK. This means that your donation is deducted from your gross salary, tax free, so the tax you would have paid on your donation is also donated to Jigsaw4u.
For every £10 donation you pay:
More information on Payroll Giving can be found directly on: www.gov.uk.
Alternatively, a direct debit can also be set up and cheques can also be accepted.
If you would like any guidance on how to donate through these options, please get in touch with us.
Corporate Partnerships with Jigsaw4u
At present, a majority of our funding comes from grants provided by trusts, foundations and local authority funding. With cuts on local authority budgets, business sponsorship is a way in which Jigsaw4u can continue to ensure we continue to provide our vital support for children, young people and families.
There are many benefits for businesses that sponsor Jigsaw4u. To learn more, visit our Corporate Partnerships page.
Corporate Partnerships
Free donations made on your behalf as you shop online
Make easy and free donations as you shop online with over 7,000 brands. These donations are made on your behalf by the business you have bought products or services from. These donations go directly into helping our children, young people and families across South West London.
Get started
Legacy Donations
Legacy donations can take the form of gifts in memory which can be selected by an individual or on behalf of someone or through gifts left in your will.
Gifts in Memory
As a community charity with a flagship bereavement service that has supported thousands of children, young people and families through our pre and post bereavement service, we realise that the death of a loved one has a huge and long-lasting impact.
A lot of people now choose to commemorate the person they've lost with charity donations or fundraising events, these are known as gifts in memory. An example of this would be through donating the cost of flowers to a charity at the request of a family.
If you are thinking of leaving a gift in memory, please feel free to get in touch with us if you would like to talk about what you are planning.
We are also listed on Memory Giving which should easily be discoverable by Funeral Directors across the UK. This allows for you to create a donation page which can be set up to collect donations which supports Jigsaw4u.
Get in touch
Gifts in your will
Leaving a gift in your will is another way to leave a legacy donation which can secure our future in continuing to deliver our work, protecting the services we offer for years to come. 
Please feel free to speak with us, or your will writer, if you would like any further information on this. 
Get in touch
Contact us about Donations
We have a number of specialist support services that helps children, young people, families and our communities to put the pieces back together.
View our services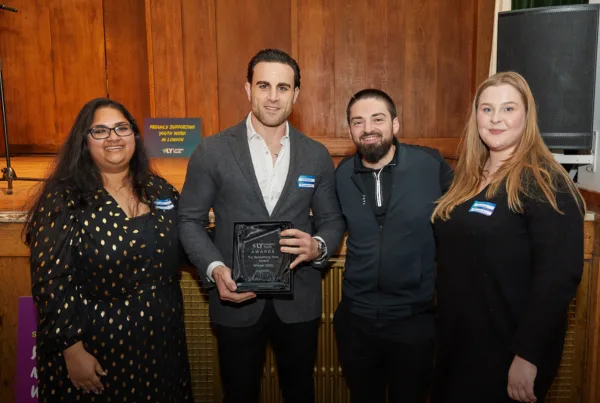 'Try Something New' London Youth Award Winners, 2023
In recognition of Jigsaw4u's response to the mental health crisis for children and young people across South West London, we have won London Youth's 'Try Something New Award' for 2023.…
We are London Youth Gold and KFH Volunteers painting day
We are delighted to announce that Jigsaw4u has been awarded the London Youth Gold Quality mark. We have been a member of London Youth for several years, achieving Bronze in…
Get the latest updates from Jigsaw4u
Stay posted about the latest news, fundraising and special activities that we have coming up.