Jigsaw4u has a wide range of specialist mental health and wellbeing services that supports children, young people and families across South West London. This extends to supporting professionals and external organisations who are working locally and nationally with these groups of people.
Our Services
Learn more about our specialist support services for our different groups of service-users
Our Services
For Children and Young People
Jigsaw4u has always prioritised supporting children and young people to put the pieces back together with custom interventions and therapeutic services
View Services
For Families
With over 20 years' experience, we support families in processing trauma and making positive changes at home
View Services
For our Communities
Wellbeing support services, special activities and fun events for service-users and the wider community
View Services
For Professionals
Commission Jigsaw4u's services or receive expert training and consultancy from our team of Specialist Support Practitioners
View Services
Commission our Services
Speak with us if there is a service that you would like to commission Jigsaw4u to work on
Commission us
Training & Consultancy
With our team of specialist support practitioners and therapists we have the expertise to train your organisation about care and support for children, young people and families
Training & Consultancy
Our Impact: Annual Reviews
With 26+ years' experience across South West London providing specialist support, you can look at our impact in recent years through our annual reviews
Our Annual Reviews
News
Get to know about all the latest stories from Jigsaw4u concerning updates about our services and other news
Latest News
How the support has helped our service-users
"Jigsaw4u has helped me to really like myself which has made life easier."

One of our children
"I like Jigsaw4u because I love making friends and talking about my feelings."

One of our children
"When I was suffering at school and being bullied because of my situation, Jigsaw4u was there to support me."

One of our children
"Thank you for getting me out of a hole I never believed I would get out of."

One of our children
"I was never going to smile again. Well at least that is what I thought until one day my mum took me to Jigsaw4u."

One of our children
"The service is in my opinion vital to young people in this day and age."

One of our parents
"I have noticed a real difference in his ability to cope in school since Jigsaw4's help. Knowing that he has support puts my mind at rest."

One of our parents
"My children are now happy and I think that is all down to Jigsaw4u."

One of our parents
"We have loved having a mentor for this child and could see the difference in him within a month or so. He engaged much more in every aspect of school life!"

Teacher at a Home School Links School
"Great support to pupils and all the school staff after one of our pupils died."

Teacher at a Home School Links School
Watch Daisy's message to Jigsaw4u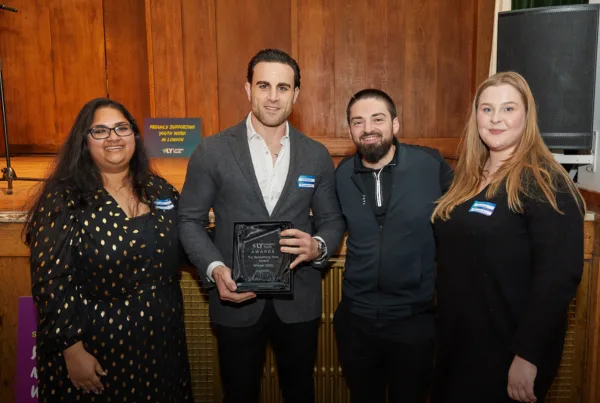 'Try Something New' London Youth Award Winners, 2023
In recognition of Jigsaw4u's response to the mental health crisis for children and young people across South West London, we have won London Youth's 'Try Something New Award' for 2023.…
We are London Youth Gold and KFH Volunteers painting day
We are delighted to announce that Jigsaw4u has been awarded the London Youth Gold Quality mark. We have been a member of London Youth for several years, achieving Bronze in…
Get the latest updates from Jigsaw4u
Stay posted about the latest news, fundraising and special activities that we have coming up.
Sign up