Thank you for your interest in partnering with us. We will aim to get back to you as soon as possible by email or phone.
Get to know us through the voices of our children and young people
Jigsaw4u's Corporate Supporters
Wimbledon Offices Ltd have supported us with a donation in the New Year as part of their overall CSR strategy for 2023 which aims to support local causes and charities where they feel their contribution will make a difference.
Watson & Sole, based in Sutton, partnered with us in May 2019. In that same year they purchased our Therapeutic log Cabin, which gave our service-users another space to access when coming to us for support. Watson & Sole continue to support us by running events and providing donations.
The members of Wallington and Carshalton's Women's Institute have supported Jigsaw4u through various fundraising activities and donations of Christmas gifts for our children and young people.
Waitrose Raynes Park and Waitrose Wimbledon customers have kindly supported us through the amazing Waitrose community matters programme.
Surrey Banners has designed artwork and promotional materials for Jigsaw4u in the past. This also includes the free production of a banner for us.
We have been fortunate to receive support from the staff and customers of Sainsbury's Wallington since 2019 through food donations, financial grants and other fundraising activities.
Reed Wimbledon have raised funds for us through various events and have made donations for our children and young people.
Mitcham Golf Club have supported us since 2020. They have selected us as their chosen charity for the last two years and will continue to support us in this capacity for 2023 by raising funds for Jigsaw4u through various fundraising activities.
The members of the Parthenon Masonic Lodge donated money towards our bereavement helpline.
We have been partnered with Love Water since 2016 when they supplied 200 water bottles for our first ever Football4u tournament. They continue to work with us making regular water and financial donations.
ITC have been supporting us since 2021. They have chosen us as their charity partner of the year taking part in fundraising activities and volunteering opportunities.
Halifax Sutton has supported us through various fundraising activities and donations.
Givers Gain, based in Wallington have chosen Jigsaw4u as their charity to support this year, hosting two Golf Days in Summer 2022 and 2023 which raised funds to support our work across South West London.
Gillman Funeral Services in Carshalton, kindly donated Christmas hampers last year for some of our families.
Gibsons, who are based in Sutton have been supporting our work since 2017. They have done much to support us since then by donating gifts, puzzles, board and card games as well as taking part in several fundraising activities for Jigsaw4u.
Co-op Funeralcare in Rose Hill have donated food hampers for some of our various fundraising events.
Close Brothers has been partnered with Jigsaw4u since 2016. They have done much to support us since then with fundraising events and donations for our service-users.
CGATE – Logistics UK Ltd made a Christmas donation in 2022 to support our specialist support work with children and young people across our local community.
Brickability has supported us since the beginning of this year and we're incredibly excited to collaborate with them. They've already taken part in our '26 miles for 26 years' campaign by walking 1.5 million steps to support us with this milestone.
Andrew Scott Robertson, who are based in Wimbledon Town and Village, made a Christmas donation in 2022 to support Jigsaw4u's work across our local community in Southwest London.
Our Partners
As well as our business supporters, we are supported by a range of organisations who help our children, young people and families to put the pieces back together.
Other ways to get involved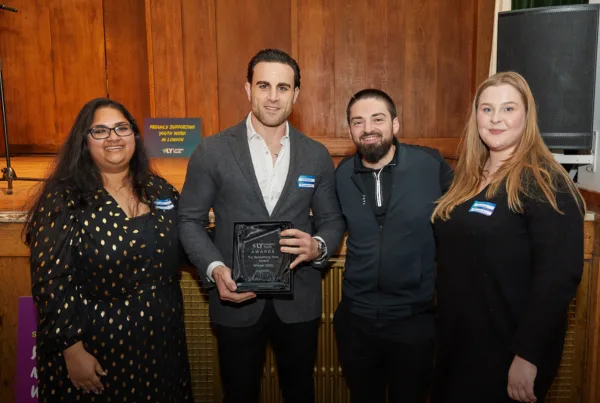 'Try Something New' London Youth Award Winners, 2023
In recognition of Jigsaw4u's response to the mental health crisis for children and young people across South West London, we have won London Youth's 'Try Something New Award' for 2023.…
We are London Youth Gold and KFH Volunteers painting day
We are delighted to announce that Jigsaw4u has been awarded the London Youth Gold Quality mark. We have been a member of London Youth for several years, achieving Bronze in…
Get the latest updates from Jigsaw4u
Stay posted about the latest news, fundraising and special activities that we have coming up.