For many, many years, it has been a dream of ours to build a therapeutic log cabin on site; a space that would provide a comfortable environment where children can explore their emotions and try to come to terms with their experiences of loss, trauma and family break down.  Thanks to the generosity of  our business charity partners Watson & Sole and local builders, electricians and plumbers, our long standing dream finally became a reality.
Friends and supporters joined us on 31st October to  officially open the new timber cabin purchased by Watson & Sole and erected and fitted out voluntarily by other local supporters of the charity – EAP Devlin & Sons, Specialist Plumbing, Heating & Gas and AEI Electrical.
Earlier this year Sutton-based business Watson & Sole teamed up with Jigsaw4u as the company's nominated charity for 2019/2020.  Managing Director, Paul Vermont said 'Like many others charities, Jigsaw4u has seen cuts to its funding budget over recent years and Watson & Sole aims to make a difference by fundraising, raising awareness and practical involvement.  The Watson & Sole Board felt purchasing the cabin was a very tangible benefit with which we could kick off our support.'
He went on to say 'the very important work that Jigsaw4u does with thousands of children, young people and parents every year immediately resonated with our staff when Jenny and Stephen from Jigsaw4u visited us to introduce the charity.  Since then staff members have been able to enjoy a 'dress-down Friday' every week – for a fee, of course! – and have also been collecting new household items to help Care Leavers through Jigsaw4u as they start out on their independent lives'.
You May Also Like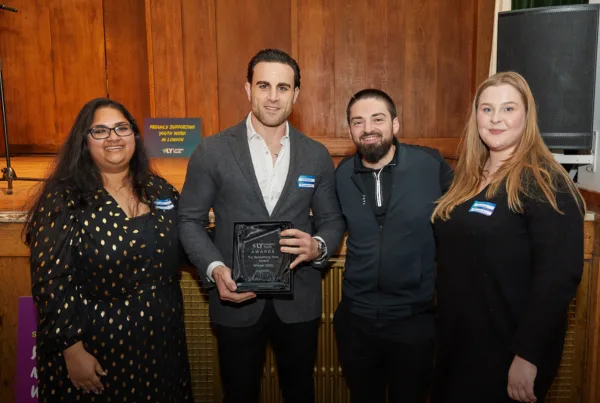 'Try Something New' London Youth Award Winners, 2023
In recognition of Jigsaw4u's response to the mental health crisis for children and young people across South West London, we have won London Youth's 'Try Something New Award' for 2023.…
We are London Youth Gold and KFH Volunteers painting day
We are delighted to announce that Jigsaw4u has been awarded the London Youth Gold Quality mark. We have been a member of London Youth for several years, achieving Bronze in…